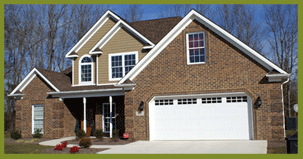 J Trapper Construction has earned an excellent reputation as a Kentucky builder, by constructing high performance energy efficient/energy reduction performance, energy effecient homes in Bowling Green, KY and surrounding areas.
Bowling Green Neighborhood Communities
Owner Trapper Pendleton believes in conserving as much green space as possible, utilizing natural draining, and preserving existing mature trees when planning new neighborhoods. His Bowling Green Kentucky neighborhood home communities offer affordable luxury attracting both new and experienced home buyers.
Currently, J Trapper Construction is building high performance homes in McLellan Farms and Kelly Heights subdivisions. The home prices range from $100's to $120's in Kelly Heights and $150's to 300's in McLellan Farms.
Click Here
to Learn More about Kelly Heights
Click Here
to Visit McLellan Farms
Submit
your inquiry to J Trapper Construction
About Trapper Pendleton
Trapper Pendleton is a second generation builder raised in Bowling Green, Ky. Trapper has been managing commercial and residential construction projects since graduating from Sewanee in 2001. After time spent managing large hospital additions and remodel projects in Nashville, TN, Trapper started J Trapper Construction in 2003. Since then, J Trapper Construction has built multiple starter homes, an assortment of move-up and luxury custom homes, completed many remodel projects, and built numerous multi-family units.
Visit our Kentucky custom built homes page